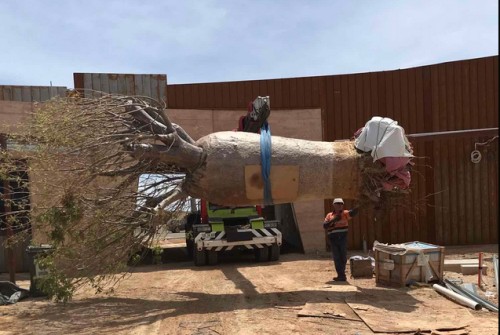 Rockin' around the boab tree
12/12/21
A six-metre-tall boab tree (Adansonia gregorii) was recently planted in the heart of the new Visitor Centre at the Monarto Safari Park creating a stunning centre piece for the park's new headquarters.
Weighing five tonne (the weight of almost 40 baby giraffe like Kamili!) and with a circumference of over five metres, the tree is estimated to be over 100 years old.
The logistics of getting a tree that size into the centre was tricky, It was walked through the new entrance with the crane.
Similarly to the design of the new Visitor Centre, the boab tree symbolises a connection of two continents, Africa and Australia.
This is a exciting milestone for the build, which is due for completion in March 2022.