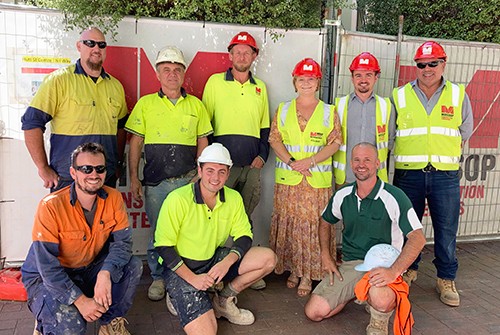 Mossop was keen to demonstrate our commitment to the Hutt St Centre and support their fantastic work in our community. So many people walk into Hutt St Centre with exceptional skills to offer but, after experiencing homelessness, they often lack the confidence to prepare for employment opportunities. With the right support and encouragement, people like Riley* are discovering new careers and new confidence on their pathway to rebuild their lives.

When recruiting for a position on the recent Hutt St Centre Redevelopment project Mossop interviewed applicants from Hutt St Centres pathways program. These participants were fully supported by their case workers as they went through an application and interview process, giving them experience and confidence in a job interview environment. Riley's* case manager, Matilda* recognised his skills would be well suited to the construction industry. "He's passionate about giving back to Hutt St Centre and he's so motivated to change his life. This was just the perfect opportunity," said Matilda*.
Mossops proudly employed Riley* for the project and since went on to offer him a full time position with Mossop Construction +Interiors. Riley* is a fantastic addition to our team and we look forward to supporting him on his new journey in the Construction Industry.
Congratulations Riley*.

* Names have been changed to protect the identity of people who have kindly allowed us to share their story.