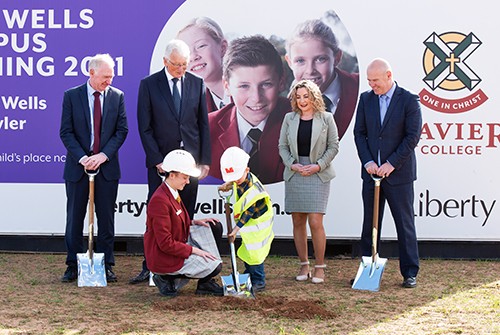 Offical "turning of the sod" Xavier College Two Wells
15/05/20
Today was the official "turning of the sod" for the new Xavier College campus at Two Wells. To mark this special occasion we joined the Chair of SACCS, Professor Denis Ralph, Director of Catholic Education South Australia, Dr Neil McGoran, Michael Hickinbotham, Liberty at Two Wells, Principal Xavier College, Mr Mark Flaherty and Head of the Two Wells Campus, Ms Janet Coomber. School captains Ethan and Rebekah were also there with their shovels alongside helpers Parker and Layla.
This transformational new educational facility for Xavier College has appealed to the Mossop team since its initial announcement. Mossop has a strong working history with Catholic Education South Australia (CESA) which we are enthusiastic to continue to build upon. We are very excited for the opportunity to collaborate with Xavier College Two Wells and Edge Architects and assist them to achieve their innovative design vision for the new campus at Two Wells.
This project will realise the first part of a staged Master Plan for the Xavier College Two Wells campus, and requires the construction of a new education building, a new maintenance shed, and new covered outdoor learning areas. It also includes landscaping to the surrounding areas, associated external works, new site works and services, all on a green site.
Works are due to commence in the coming weeks. We look froward to turning this vision into a reality.