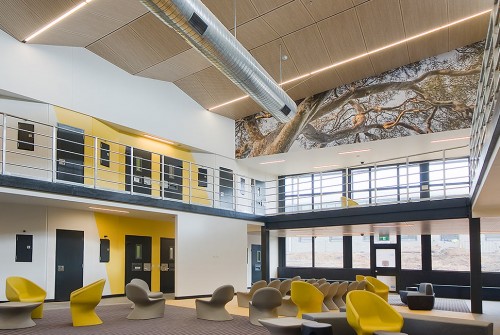 First look inside the new $180m Yatala Labour Prison Redevelopment
08/06/23
The Yatala Labour Prison Redevelopment project is a major initiative by the SA State Government to enhance the quality, safety, and efficiency of the prison system and in turn reduce re-offending rates.

Mossop Construction + Interiors were appointed for the $180 million redevelopment which comprised of new staff car parking and ring road, new visitors/admissions and kitchen facilities, two double-storey high-security accommodation buildings, a specialised accommodation and support building, as well as site security fencing and infrastructure upgrades, covering a vast area of 10,0000m2.

The redevelopment project sets a new standard for correctional facilities in South Australia, and is a significant step toward reducing re-offending by contributing a more rehabilitative environment for inmates, improved security systems, and targeted accommodations. The first prisoners are expected to move into the new facility in July.