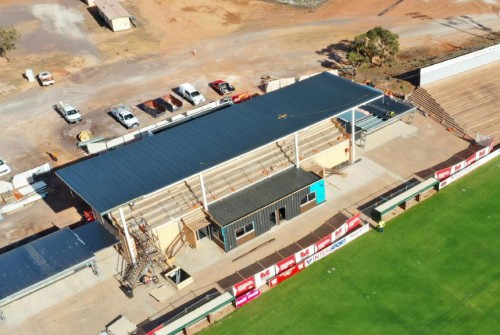 Bennett Oval Upgrade ready to host Power AFL match
05/02/20
The $2.8 million upgrade at Whyalla's Bennett Oval is nearing completion ahead of the first AFL match between Port Adelaide and Western Bulldogs on Saturday March 7.
Mossop commenced the Bennett Oval Grandstand Upgrade in October 2019 with a fast track program to accommodate the AFL 2020 preseason match.
Works comprising a total refurbishment of the inside and outside of the grandstand including installation of a new canopy structure, new coach's boxes, and facilities including a fitout with new toilets and showers for players and public use.
New construction works include new doctor's quarters and office facility plus the integration and associated works with the placement of new modular Canteen block and Bar block to service the refurbished grandstand.
The total upgrade will bring the complex up to national sporting standards for AFL and Cricket.